AutoLinkTextViewV2
AutoLinkTextView is a TextView that supports automatic detection of Hashtags (#), Mentions (@) , URLs (http://), Phone Nubers and emails.
AutoLinkTextViewV2 is the new version of the [AutoLinkTextView].
The main differences between the old and new version are
Fully migration to Kotlin
Added several new features
Some improvements and fixes
It supports automatic detection and click handling for
Hashtags (#)
Mentions (@)
URLs (http://)
Phone Numbers
Emails
Custom Regex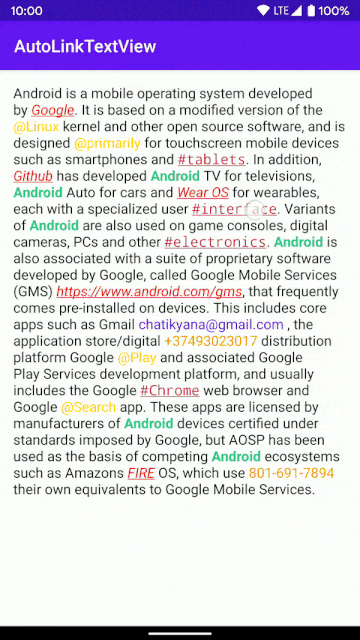 The current minSDK version is API level 16.
Download sample apk
Features
Default support for Hashtag, Mention, Link, Phone number and Email
Support for custom types via regex
Transform url to short clickable text
Ability to apply multiple spans to any mode
Ability to set specific text color
Ability to set pressed state color
---
Download
Gradle:
implementation 'com.github.armcha:AutoLinkTextViewV2:2.1.1'

Setup and Usage
Add AutoLinkTextView to your layout
<io.github.armcha.autolink.AutoLinkTextView
    android:id="@+id/autolinkTextView"
    android:layout_width="wrap_content"
    android:layout_height="wrap_content" />

val autoLinkTextView = findViewById<AutoLinkTextView>(R.id.autolinkTextView);

Add one or multiple modes
autoLinkTextView.addAutoLinkMode(
                MODE_HASHTAG,
                MODE_URL)

---
Add url transformations for transforming them to short clickable text
autoLinkTextView.addUrlTransformations(
                "https://google.com" to "Google",
                "https://en.wikipedia.org/wiki/Wear_OS" to "Wear OS")

Or you can attach urlProcessor and transform it
autoLinkTextView.attachUrlProcessor { originalUrl: String ->
    when {
        originalUrl.startsWith("https://en.wikipedia") -> "Wiki"
        originalUrl.contains("android") -> "Android"
        else -> originalUrl
    }
}

---
Add one or multiple spans to specific mode
autoLinkTextView.addSpan(MODE_URL, StyleSpan(Typeface.ITALIC), UnderlineSpan())
autoLinkTextView.addSpan(MODE_HASHTAG, UnderlineSpan(), TypefaceSpan("monospace"))

---
Set AutoLinkTextView click listener
autoLinkTextView.onAutoLinkClick { item: AutoLinkItem ->
}

---
Set text to AutoLinkTextView
autoLinkTextView.text = getString(R.string.android_text)

Customizing
All possible modes
MODE_PHONE
MODE_HASHTAG
MODE_URL
MODE_MENTION
MODE_EMAIL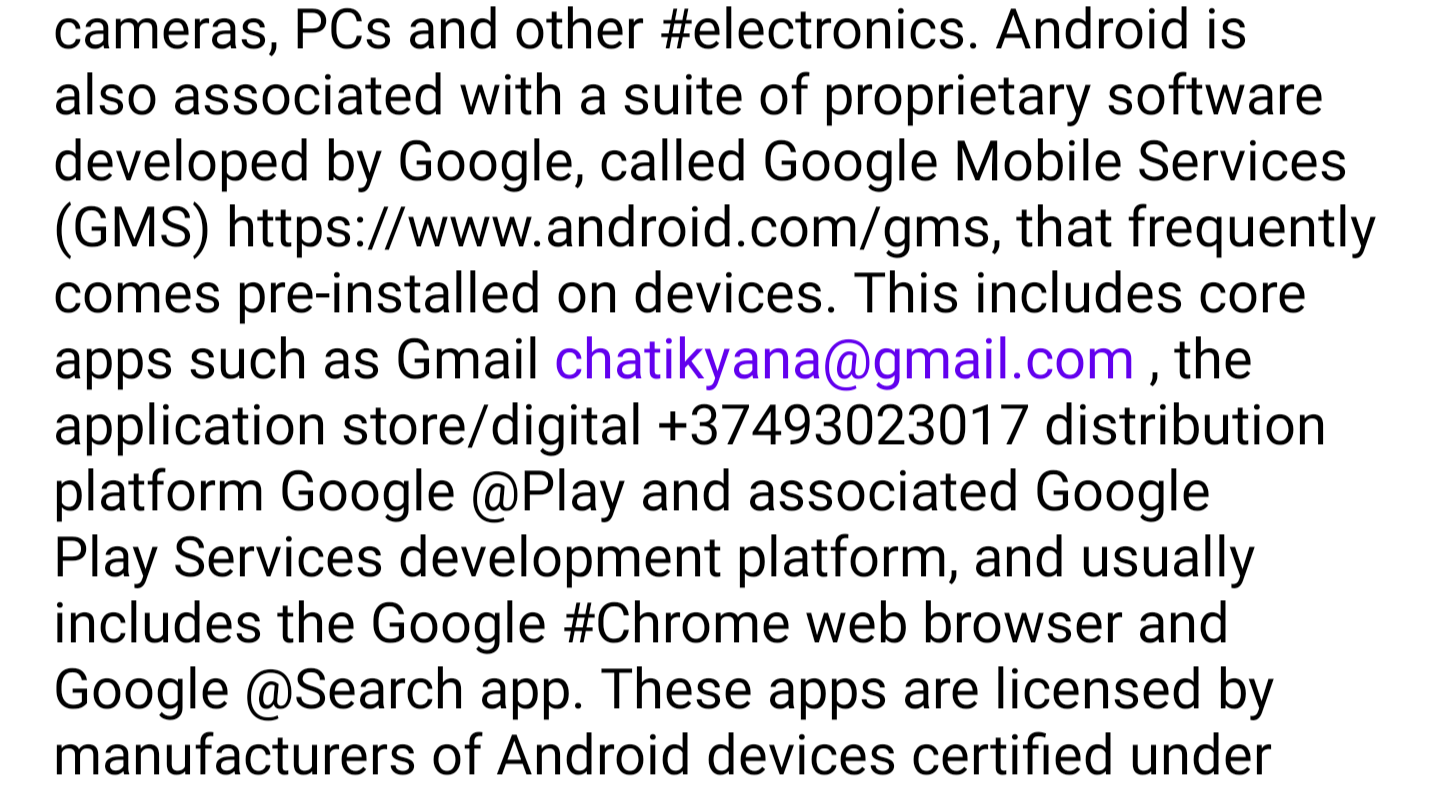 MODE_CUSTOM
For use of custom mode add custom regex
val custom = MODE_CUSTOM("\\sAndroid\\b")

---
You can change text color for the specific mode
autoLinkTextView.hashTagModeColor = ContextCompat.getColor(this, R.color.color2)
autoLinkTextView.phoneModeColor = ContextCompat.getColor(this, R.color.color3)

---
You can also change pressed text color
autoLinkTextView.pressedTextColor = ContextCompat.getColor(this, R.color.pressedTextColor)

GitHub