Who Wants to Be a Millionaire Game App
Welcome to the "Who Wants to Be a Millionaire" Game App, implemented in Kotlin using Jetpack Compose. This application provides an engaging experience for users to enjoy a friendly or competitive trivia game based on the popular TV show.
Features
Friendly Game Mode:
Choose the number of questions you want to answer.
Progress through the selected number of questions.
Receive detailed statistics at the end of the game, including the number of correct and incorrect answers, as well as the percentage of correct and incorrect responses.
Competitive Game Mode:
Face a challenge with 10 randomly selected questions.
Use three lifelines (The phone call, 50%, Ask the Audience) strategically to answer all questions correctly. Lifelines can be used only once in the competitive mode.
Question Editor:
Access a question editing menu to add, modify, or delete questions.
Customize the trivia content to suit your preferences.
Getting Started
Follow these steps to get the "Who Wants to Be a Millionaire" Game App up and running on your local machine.
Prerequisites
Android Studio installed.
A computer with enough power to run the phone emulator or a phone with the USB debugging enabled
Installation
Usage
Choose between the Friendly Game Mode or Competitive Game Mode from the main menu.
In Friendly Game Mode, set the number of questions and answer them sequentially.
In Competitive Game Mode, try to answer 10 random questions correctly using your three lifelines strategically.
Explore the Question Editor to customize and manage the trivia content.
Screenshots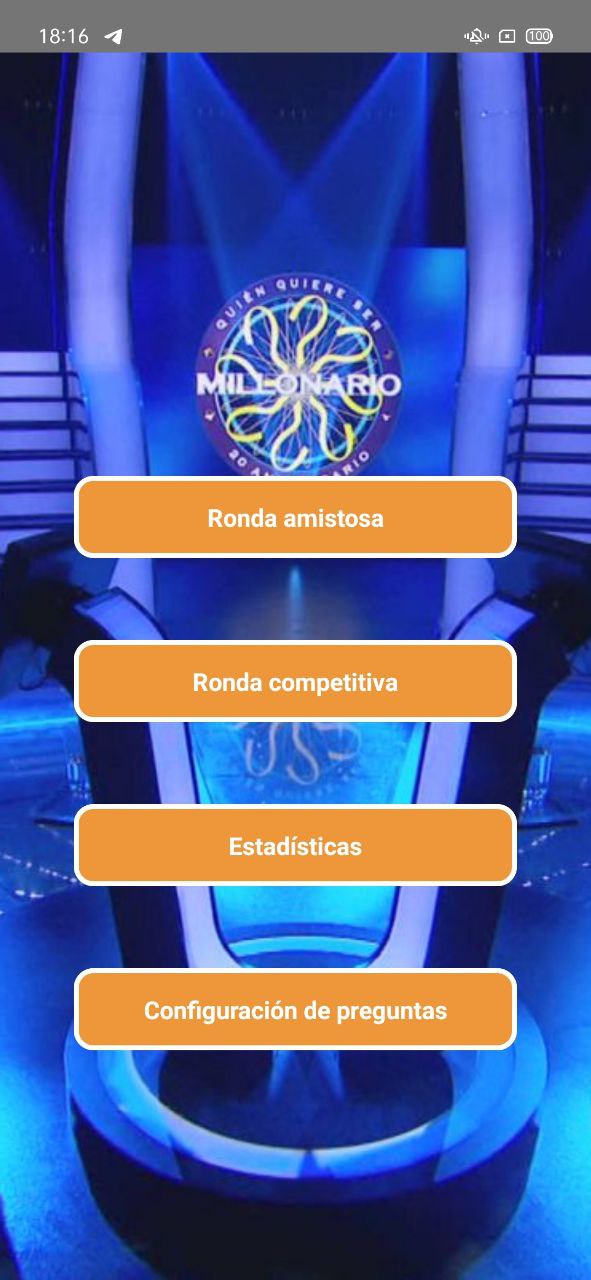 Enjoy the game! 🎉
GitHub